Samia Rose Topiary
Call for an appointment to visit. 760-443-3331


NEWS FLASH!
You can now find SAMIA ROSE TOPIARY
at the new and exciting Planter Sam at 700 Rancho Santa Fe in San Marcos
Fresh topiary items stock regularly. If you don't what you want ask them!
Planter Sam is a new plant shop specializing in tropical plants for you home and garden, They are community oriented and always ready to talk to you about plants. The full service shop that even has a customer planting station.
Samia Rose is proud to add our topiary to their extensive line of garden must have inventory.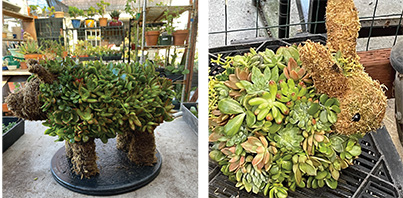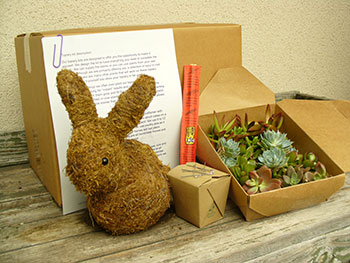 THE SAMIA ROSE TOPIARY CATALOG

Many of you have asked if we would sell supplies on line. It has taken a while but we did it. You can now enjoy the fun of growing your own topiary. After years of experience in making and offering living topiary we are now making it possible for your customer kits for Do-It-Yourself at home. Our kits offer everything you need to complete your own topiary in no time. Our kits are simple and easy and ready for you.

Our kits include pre-mossed forms to make it easy for everyone from children to adults. These kits are perfect for 1st timers to seasoned gardeners. Anyone can do it! They are great for group projects and make wonderful gifts for your gardening friends. We send all the supplies and tools to do the job. Most importantly, we include simple clear instructions. And if you have questions you can always contact us be email at: info@SRTopiary.com

Please keep checking in because we hope to increase offerings in the
THE SAMIA ROSE TOPIARY CATALOG regularly.
Samia Rose Topiary
119 Valpreda Road
San Marcos CA 92069
760-443-3331
We supply topiary for parties and special events.
Purchases originating in person at the nursery are eligible for
10% discount offered to members of Palomar Cactus and Succulent Society,
San Diego Floral Association and San Diego Botanic Garden.
Please mention your affiliation before paying.